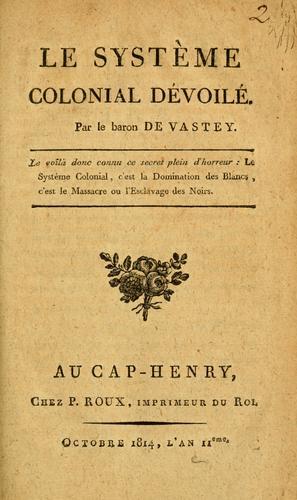 This book brings to light the contributions of Haitian statesman Baron de Vastey in the development of postcolonial and critical race theory. The book demonstrates the influence of de Vastey's writings and the work of prominent nineteenth and early twentieth-century abolitionists and anti-colonialists. Finally the work argues for the significance of writing by people of color from French Saint-Domingue dating to before formal Haitian independence.
Focusing on the influential life and works of the Haitian political writer and statesman, Baron de Vastey (1781-1820), in this book Marlene L. Daut examines the legacy of Vastey's extensive writings as a form of what she calls black Atlantic humanism, a discourse devoted to attacking the enlightenment foundations of colonialism.
Daut argues that Vastey, the most important secretary of Haiti's King Henry Christophe, was a pioneer in a tradition of deconstructing colonial racism and colonial slavery that is much more closely associated with twentieth-century writers like W.E.B. Du Bois, Frantz Fanon, and Aimé Césaire. By expertly forging exciting new historical and theoretical connections among Vastey and these later twentieth-century writers, as well as eighteenth- and nineteenth-century black Atlantic authors, such as Phillis Wheatley, Olaudah Equiano, William Wells Brown, and Harriet Jacobs, Daut proves that any understanding of the genesis of Afro-diasporic thought must include Haiti's Baron de Vastey.
Marlene L. Daut is Associate Professor of African Diaspora Studies in the Carter G. Woodson Institute for African American and African Studies and the Program in American Studies at the University of Virginia. She is the author of Tropics of Haiti: Race and the Literary History of the Haitian Revolution in the Atlantic World, 1789-1865 (2015).
Daut, M. L. (2017). Baron de Vastey and the origins of black Atlantic humanism. Basingstoke: Palgrave Macmillan.