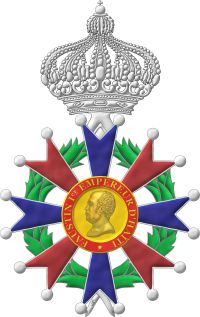 Légion d'honneur
The ancient imperial Orders were approved to wear in France by the Légion d'honneur (Chambers Journal XI, jan-jun-1859 Order Saint Faustin). The Legion of Honour is a national order of France. The President of the French Republic is its Grand Master.
Nature of the honours
The current Imperial Orders are not to be confused with ancient European orders of knighthood or knightly orders, since they were created in the 19th century. The titles and honours of the Haitian Imperial House, its dynastic orders and awards, patents of nobility, and other elements of the historical and symbolic system of monarchical institutions no longer enjoy state recognition and bestow no privileges, but they remain nonetheless monuments of Haiti's history and part of the cultural heritage of the nation.